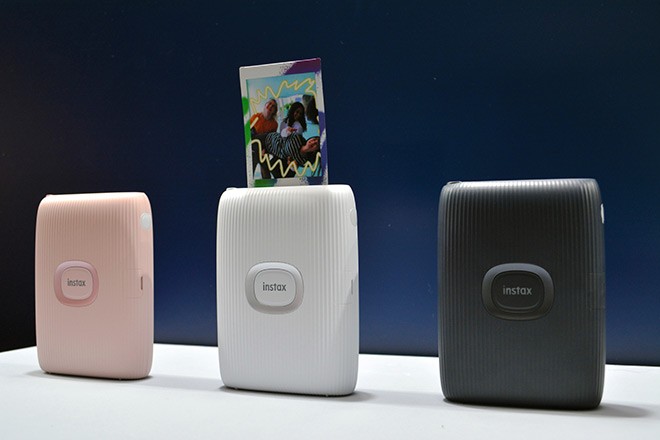 Fujifilm's Instax printer decorates smartphone photos with AR
The new Instax Mini Link 2 portable printer from Fujifilm Corp. allows users to add decorations to smartphone photos using augmented reality (AR) technology.
The subject of the photo can draw text and paints in the air and add bubbles, petals and other ornaments, for example.
The printer, released on July 28, is the latest addition to the popular Instax series, which primarily comprises instant cameras allowing users to print photos on the spot.
"We will continue to combine analog printing and digital technology to deliver entertaining products and services," Fujifilm President Teiichi Goto said during a July 7 presentation.
The Instax Mini Link 2 allows users to print photos taken with a smartphone using an exclusive app. Users can also print the best image from a video shot with a smartphone.
The printer sells for 15,800 yen ($116), including tax, in Japan.
The Instax series, which will celebrate its 25th anniversary next year, continues to attract young customers as it continues to evolve and integrate digital technologies into analog cameras.
The brand, which is sold in more than 100 countries, sold 10 million units in the fiscal year to March 2019. More than 90% of its sales come from abroad.
Instax instant cameras, introduced in 1998, became popular for their convenience and around 1 million units were sold in Japan in the year to March 2003.
The figure dropped sharply to 100,000 in the year to March 2005 due to the widespread availability of digital cameras. But the Instax regained its popularity after being featured in a drama TV series outside of Japan in 2007.
Fujifilm launched the first Instax-branded portable printer that allows users to print smartphone photos on the go in 2014.
In 2017, the company launched an instant camera with a monitor that allowed users to view photos before printing them, like a digital camera.
Fujifilm also announced that it will increase production of Instax films by investing around 2 billion yen in a factory in Minami-Ashigara, Kanagawa Prefecture. Production capacity will increase by 20% when new lines come on stream in the fall.