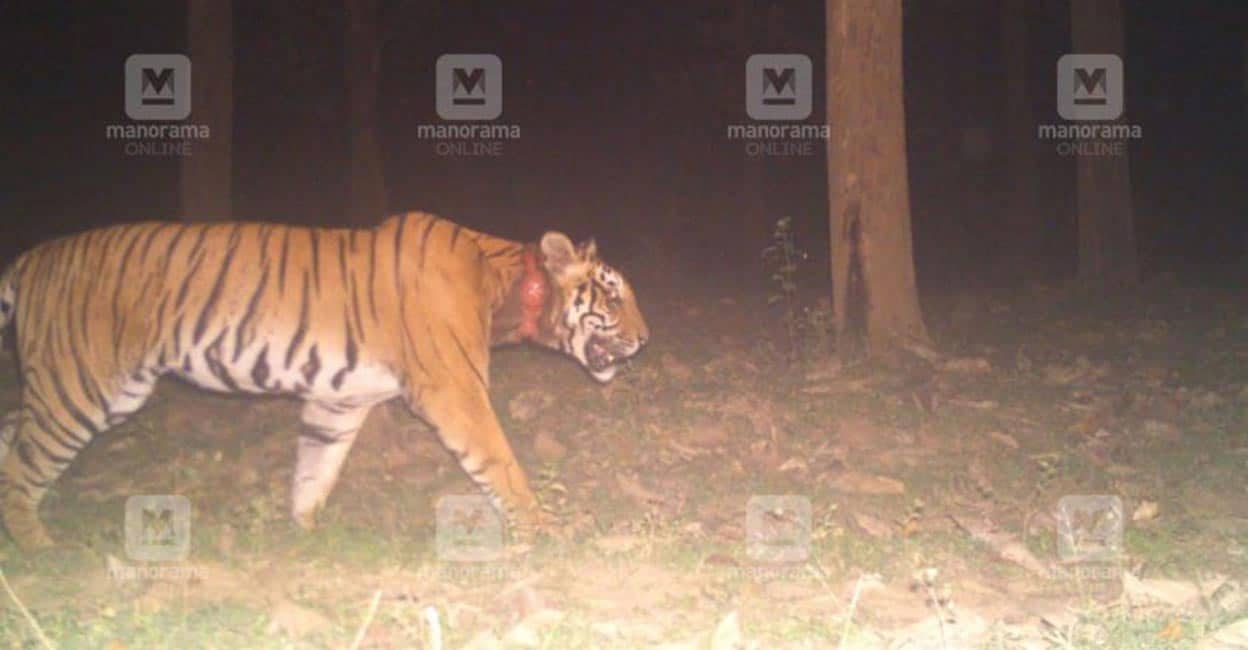 Wayanad's elusive injured tiger spotted by camera trap Monday
Mananthavady: Several days have passed since a massive search operation was launched to catch a tiger hunting for prey in human settlements in parts of Wayanad District. But the operation has yet to yield any results, although its image was captured on Monday morning by a camera trap set in the Devatath Forest of the Thrissilery section of the Begur Forest Range.
(A camera trap is a digital camera connected to an infrared sensor that can spot hot moving objects, such as animals.)
With authorities confirming that it was the same tiger that attacked the pets, search operations intensified.
The ranger teams carried out a massive search operation in the deep forests, the second gate of Kattikulam, which is part of the Tholpetty wildlife reserve, and the Ammani forest from morning till night.
Kumki Kalloor Komban and Vadakanadu Komban elephants conducted a search in the forest on Monday. Of the five trap cages installed earlier, one has been moved to this area. No less than 50 cameras have been installed in the region.
Pugmarks found
Even though local residents believed the tiger had retreated into the forest, its pugmarks were found in populated areas on Monday, causing panic. The pugmarks have been spotted in the Patamata Chengoth area, within the municipality of Mananthavady.
Forest rangers arrived in the area and conducted a search operation. While following the pugmarks, forestry officials confirmed that the animal had retreated into the forests.
Subsequently, forestry agents stepped up the search operation in the forest areas.
Forestry officials believe the tiger, which suffered neck injuries, will not travel long distances. They came to this conclusion after evaluating the pattern of the pugs, which suggests that the tiger's pace decreased.
Bishop arrives
After the one-day search operation, the senior team reviewed the progress of the search mission. Meanwhile, a team led by the Bishop of Mananthavady, Mar Jose Perunthottam, traveled to Kurukkanmoola where the tiger had struck several times in the past month.
Local residents demanded that the big cat be found and left in the deep forest.
Farmers reflect on the hustle and bustle
Farmers' organizations are preparing to launch an agitation to denounce the failure of the government apparatus to capture the animal.
Despite more than 200 staff, including forestry and police officers, who conducted search operations, smashed crackers and scanned the forest for days together, they couldn't even see the tiger. live.
Three units of tranquilizers were in action Monday. A team led by the chief forestry veterinarian, Dr Arun Zachraia, has been part of the mission for several days. In addition, a team of tranquilizers from Tamil Nadu led by Dr KK Ragesh from Muthumalai is also camping in the area.