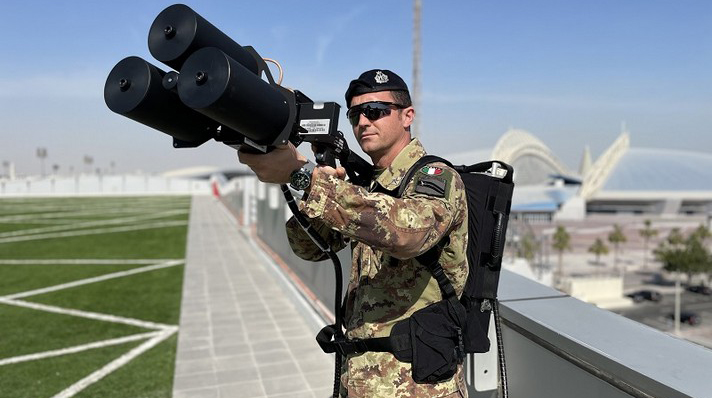 Italian Air Force anti-UAS capability makes first operational deployment to Qatar
The Italian Air Force anti-drone system was deployed to support the Qatari armed forces during a sporting event.
From November 23 to December 20, 2021, the Italian Air Force deployed an Unmanned Aerial Drone System (C-UAS) Task Force to Qatar, to support the local armed forces during the competition of the 2021 FIFA Arab Cup.
The working group, which reported directly to the command of the Italian national contingent AIR (IT NCC Air) / Task Force Kuwait, supports OIR (Operation Inherent Resolve), the multinational campaign against Daesh in Iraq and Syria, as part of "Prima Parthica", like the operation of the Italian Armed Forces is doubled at the national level.
The role of the C-UAS component was to ensure defense against the threat posed by the so-called "mini and micro drones", very small remotely piloted aircraft that can be deployed alone or in groups (reaction by the air defense system). more difficult) to fly over sensitive or prohibited areas such as military installations or low-altitude event locations. Small drones can also carry warheads and can be used to launch attacks on sensitive targets and individuals.
In Qatar, the Italian Air Force has deployed the "ACUS" fixed anti-drone system (AMI Counter UAS) as well as portable jamming systems. In total, around thirty soldiers are employed in the operational group, including air rifles from the 16 ° Stormo (Wing) "Forces Protection" and operators of the Force Protection sector belonging to the 4th, 6th and 32nd squadrons. Although specific details of the ACUS system are not available, generally speaking, the counter-drone systems (C-UAS) currently available allow early detection, analysis and identification, alert and suppression of threatening drones in the world. means of portable or highly mobile solutions (although there are also C-UAS systems in fixed configuration). The drone is typically disabled by means of EW (Electronic Warfare), disrupting multiple RF frequency bands by simultaneously denying the controller's radio signals, making the live video stream and GPS signal unavailable to the remote operator.
The IT NCC Air was established on October 17, 2014. Currently commanded by Col. Antonio Vivolo, the unit provides unified command and logistical support for the synergistic and coordinated use of Italian Air Force assets deployed to the support from the IRO as well as the Italian Army SAMP / T deployed to Alì Al Salem, Kuwait, to strengthen the defense of Kuwaiti airspace and provide a security framework for Italian and host nation contingents . The Italian Air Force fleet in support of the IRO includes the Eurofighter Typhoon and Predator resources in charge of ISR (Intelligence Surveillance Reconnaissance) missions and The KC-767A tankers provide AAR (Air-to-Air Refueling) support to Coalition assets.