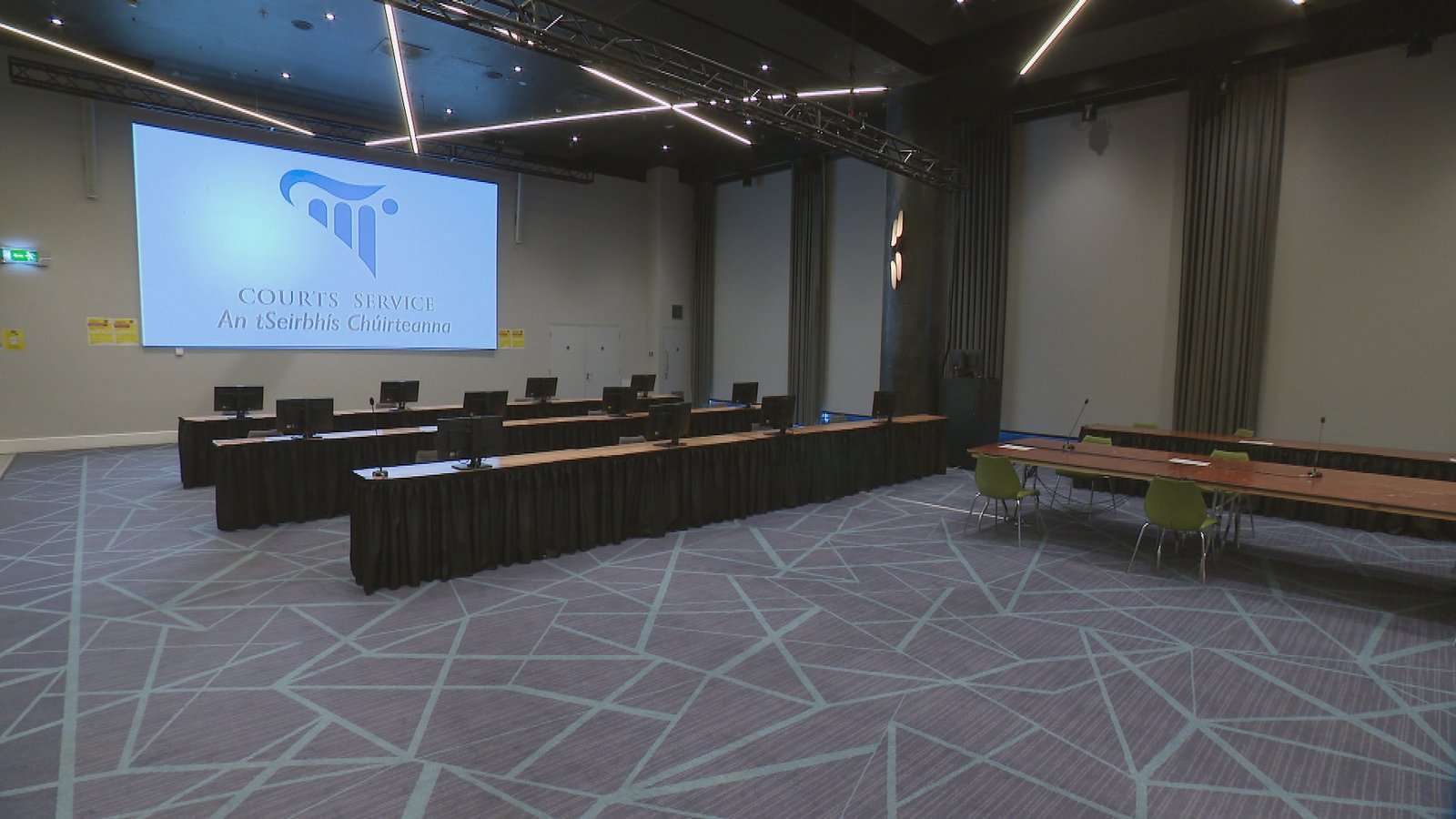 Four convicted of sex offenses against 17-year-old girl
Four young men were found guilty by the Central Criminal Court of a series of sex offenses against a 17-year-old girl in the Midlands in December 2016. A fifth man had previously pleaded guilty to rape.
The trial judge paid tribute to the "very, very brave young woman" who testified at the trial of the four men.
They have been taken into custody and will be sentenced at the end of next month.
The four men were all found guilty of sexually assaulting the girl in the early hours of December 27, 2016.
The incidents happened near Kilbeggan in County Westmeath and near Tullamore in County Offaly.
Three of the men were convicted of raping her. Two were convicted of falsely imprisoning her in a car.
Marcus De Silva Umbelino, 22, of Block C Riverview, Kilbeggan, County Westmeath, was found guilty of raping and sexually assaulting the girl. He was found not guilty of falsely imprisoning her.
Eduardo Dias Ferreiera Filho, 24, of Block D Riverview, Kilbeggan, Co Westmeath, was found guilty of oral rape, sexual assault and wrongful imprisonment of the girl.
Gabriel Gomes Da Rocha, 24, of Mount Armstrong, Rahan, Tullamore, Co Offaly, was convicted of raping her at two different locations, sexually assaulting her and falsely imprisoning her.
Ethan Nikolaou, 23, of Brosna Park, Kilbeggan, Co Westmeath, was found guilty of two counts of sexual assault.
Conor Byrne, 24, of Ballybeg, Moate, Co Westmeath, pleaded guilty on an earlier date to a charge of rape.
The four men have been remanded in custody and will be sentenced at the end of next month when evidence of the impact on the victim is also heard.
Mrs Justice Tara Burns told the victim she was a 'very, very brave young woman'.
The judge said she was "more than impressed" by the way she conducted herself with "absolute dignity" during the trial. She said she hoped that part of her life could now be behind her.
The judge exempted the jurors from further jury service for the rest of their lives.
She said it wasn't something she usually did, but did in this case because of the "horrible" and "heartbreaking" evidence they had to listen to.
The girl, who is now in her early twenties, had tears in her eyes as the verdicts were announced.
Families of young men were sobbing, holding hands and hugging them. There were loud sobs as the men were led away after being taken into custody.
The court heard that the wife of one of the men was pregnant and due to give birth soon.
---
Disclaimer: This article contains graphic details
The court told a girl driven to a distant place
The jury began deliberating last Monday after a three-week trial in which the prosecution said a 17-year-old girl was taken to a remote location near Kilbeggan in the early hours of December 27, where she had been assaulted and raped.
The young woman told the court she went out with friends in Tullamore on St. Stephen's Eve in 2016 and made a 'stupid, quick decision' in the early hours of the morning to get in the car with the men after hearing one of them call his name.
She told the jury that she was repeatedly sexually assaulted while in the back of the car and got in the front with one of the men to get away from the others, but the sexual assaults continued with "hands reaching from the back of the car".
She said she pushed hands away as the men argued over where they would drive.
She asked to be driven to a friend's house but agreed to go somewhere else first if that meant the abuse would stop.
She heard someone say "ah guys, she's good" and "we're going to do everything tonight". She told prosecutor Lorcan Staines that she thought that meant they wanted to "do stuff to her".
She described feeling "choked" and feeling like she had been "teleported" between the front and back of the car as the sexual assaults continued.
She said when the car stopped the men got out but came back one by one. She said she felt "paralyzed, like my body and mind went on autopilot and I froze. I wasn't going anywhere. I was in a car."
When the third man got into the car, she told him to stop but he didn't. Around that time, she became aware of flashes and lights from camera phones outside the car and told them to stop with the cameras.
As the assaults continued, she described feeling "almost a little numb, it's kind of a weird thing to put into words, it was almost like an out of body experience because even though I was there, I couldn't believe this was happening."
She said that at this point she was "empty and upset and in tears and quite static" and was alone in the passenger seat with four men in the back as they drove back to town.
She said two of the occupants were dropped off at a housing estate and she was driven back to a parking lot where two men in the back demanded a threesome. She said she was raped and orally raped in the back of the car and restrained from getting out of the car.
"I was overwhelmed and counting the time until I could get out of there, it was a nightmare," she said. She said she was allowed to leave when one of the men stopped holding her.
The court said 'nothing was consensual'
On cross-examination, she said there was no consensus about what happened that night.
"I repeatedly told people to stop on different occasions. I repeatedly removed hands that weren't supposed to be there," she said.
She was asked why she made no attempt to get out of the car or asked to be let out of town, and she said "there was one of me and five of them…it was very intimidating .I don't know what would have happened, especially when I had protested certain things and no one was listening to me".
She disagreed that the atmosphere in the car was jovial and said the men weren't smiling or laughing.
She agreed that nothing was said when the first man had sex with her and when asked why she felt she couldn't resist she replied: "I don't think that it's unreasonable that I didn't yell stop or how dare you I had told them to stop (earlier) and they didn't so what makes different, why would they stop then?"
Closing Arguments
In closing arguments, attorney prosecuting Lorcan Staines SC told the jury that the plaintiff was legally a child at the time.
He said that during her testimony, she did not seek to "bring anyone down" and that she had many opportunities to exaggerate her testimony, but she did not. made.
Many of the charges against the defendants stemmed not from his allegations but from their own confessions to the gardaí.
He asked the jury to imagine a situation where "so many sexual things have been done to you that you yourself don't even remember some of them".
He said the defendants appeared to have a misunderstanding of what constituted consent and that their claims that she "didn't scream, didn't scream" spoke to "rape myths."
He said failure to offer resistance does not amount to consent and a person does not consent if they allow or submit to an act due to the application of force.
He added that the complainant testified that she did not know how the men would react if she tried to flee the car or call the gardaí using one of the men's phones.
Each of the four defendants told demonstrable lies during numerous interviews with the garda and they later admitted those lies, he said.