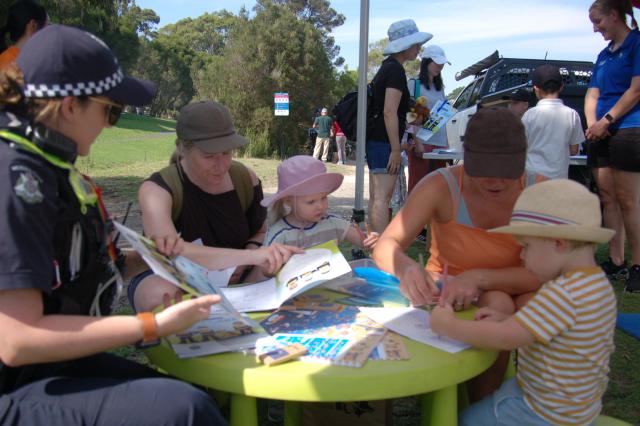 Drones on display at Lysterfield
By Marcus Uhe and Jonty Ralphsmith
Members of Narre Warren Police and Dandenong Police Station were at Lake Lysterfield on Monday March 14 for a water safety activation event.
They were joined by volunteers from Life Saving Victoria (LSV) who demonstrated the capabilities of their drones to monitor water activities, identify hazards and undertake surveys.
Four people have drowned in Lake Lysterfield since 2007.
The lake appears calm on the surface, but currents and submerged objects below the surface make the lake a potentially dangerous place to swim.
According to LSV, 17 people drowned in Victoria over the summer.
A Life Saving Victoria spokesperson said the activation was organized to provide the community with practical and engaging water safety education and information.
"In Victoria, there is a 68 per cent increase in drownings on public holidays in all aquatic environments, including the coast, swimming pools and inland waterways," the spokesperson said.
LSV's aforementioned air fleet, which was showcased at the event, includes eight drones and two helicopters.
Their drone capacity recently increased from two drones to four, allowing rescuers to have an eye on more waterways across the state at once.
The technology means LSV can live stream footage captured by its drones directly into the state control center, as well as automatically identify and monitor potential hazards to oceans and waterways.
"This technology helps us improve the accuracy of our risk forecasting and operational planning for our busiest times, as well as quickly coordinate rescue services in emergency situations, ensuring the safety of people in Victorian waters," the spokesperson said.
"Aerial support means our rescuers are available to undertake more rescues in remote and hard-to-reach places when people need us most, and helps us get a clearer picture of the condition of patients. as we bring them to safety, allowing us to relay their status to our partner emergency agencies more quickly, for better patient outcomes.
"Over the past few seasons, drones have become a vital addition to LSV's waterway surveillance capability, with technology expanding the capability of traditional rescue patrols well beyond red and yellow flags, while last season , LSV undertook a record 15 winching rescues of people in distress. using the Westpac Lifesaver Rescue Helicopter.
Life Saving Victoria's recommended swimming safety tips include swimming with a friend, actively supervising children and swimming at supervised beaches during patrol times.