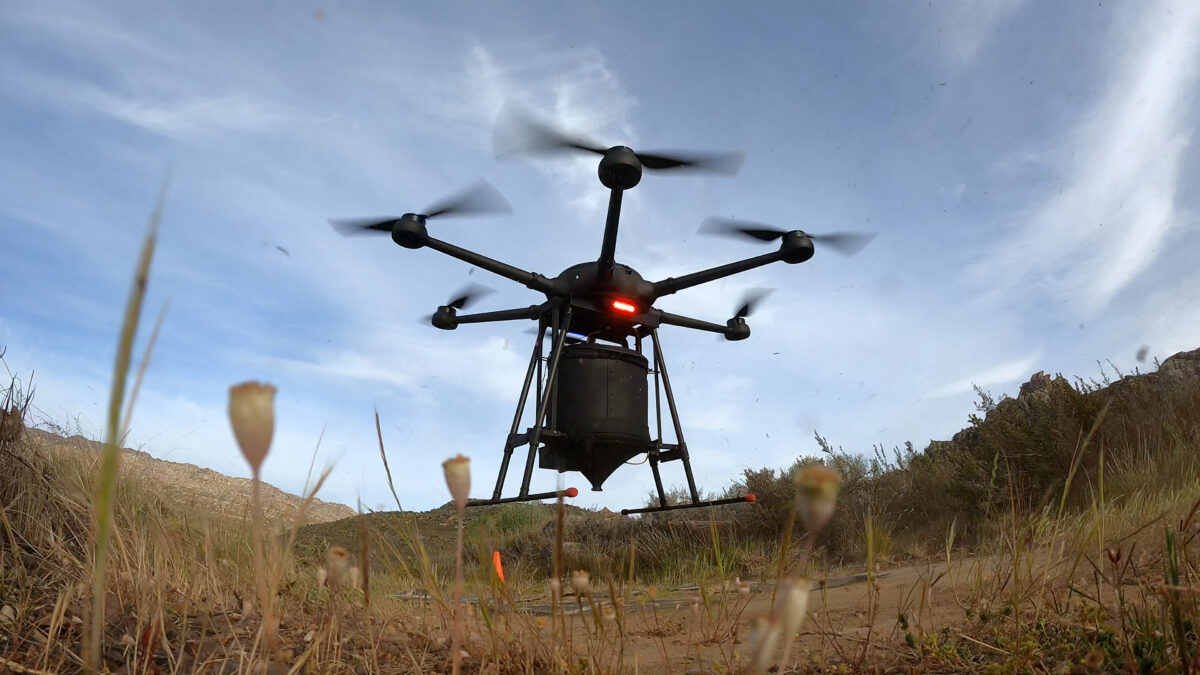 Drones are planting millions of trees in Australia's largest botanic garden
Australia's largest botanic garden is using drones to speed up tree planting and restore native Australian species, especially after weed invasions, bushfires and droughts left their garden in disrepair.
More than 52 million hectares of Australian land is now considered degraded.
Australian Botanic Garden curator director Michael Elgey said they had cleared dense forests of the invasive African olive, the main offender in their garden.
"After decades of olive invasion, there were very few native species left," he said.
"This project is a fantastic opportunity to restore the original native vegetation and create habitat on these 'zero ground' cleared olive tree sites."
The $500,000 (US$345,000) research project is a collaboration between Western Sydney University, the Australian Institute of Botanical Sciences and AirSeed Technologies, an environmental restoration company using drones, artificial intelligence and biotechnology.
Lead researcher Rachael Gallagher, from Western Sydney University's Hawkesbury Institute for the Environment, said scalable solutions to restore lost forests and biodiversity are urgently needed due to the degraded state of Australia's land.
"We cannot achieve the important goals of national and global restoration programs by sticking to the status quo," Gallagher said.
"We urgently need new techniques that reduce seed wastage and are able to plant many species quickly, leading to benefits for both carbon sequestration and biodiversity."
The project's investigator partner at the Australian PlantBank, Peter Cuneo, said planting seeds directly in this way has the potential to revolutionize the way we protect and conserve native plant species for future generations in Australia.
"The drones contain preformed pods that contain seeds, nutrients and microbial inoculants that will support the seedlings as they germinate from the pellet pods and establish when conditions are right," Cuneo said.
Four-step process:
The process has four steps: understanding the soil and soil, making the pods, planting, and monitoring after planting to ensure its success. But although it requires meticulous planning, the actual planting can only take about ten minutes of flight time to plant up to 1,000 pods.
After the Black Summer bushfires, the World Wildlife Fund tested specialist tree-planting drones to help grow new homes for koalas and other wildlife. Working with scientists, businesses and Indigenous leaders, the project has planted tens of thousands of eucalyptus trees in one of Australia's largest ever regeneration programs.