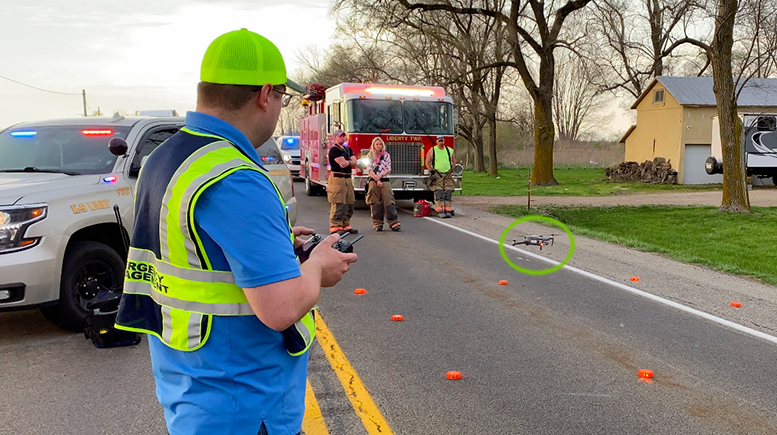 BBF Grants Fund Drone Purchase & Training – Essential Law Enforcement Tools – Muncie Journal
By Juli Metzger—
MUNCIE, Ind. – Mark Carter was tired. But it was a good fatigue. He had spent several days in some sort of demonstration with Randolph County first graders teaching them about unmanned aerial vehicles (drones), why they are important to public safety efforts, and how to operate them.
"They received information on UAV safety, particularly how high a drone can legally fly, in line of sight and overhead people," Carter explained.
He was a guest on the Randolph County Extension Office's Day on the Farm program in October. Its demonstration was made possible by a grant from the Ball Brothers Foundation which purchased the drones for Purdue's extension office in neighboring Blackford County.
This year, the Ball Brothers Foundation awarded more than $ 50,000 to fund the purchase of drones and create a unique program to train emergency responders in the use of drones in their work.
The grants align with the foundation's Emergency Management Initiative, designed, in part, to fund special community safety equipment that is not necessarily covered by taxpayer dollars.
"We rely on grants to fund equipment like this," said Kyle Johnson, Delaware County CIO. "We don't have an equipment fund in our annual budget to tap into, so it's opportunities like these that give us access to industry standard equipment. "
Purdue Extension Blackford County has received $ 45,600 to purchase drones and sensors to use as part of its public safety training program. The program is designed specifically for law enforcement officers, firefighters, emergency management professionals and local county officials. In addition to using drones at crime scenes and for police investigations, participants were trained in FAA regulations, law enforcement tactics, fire operations, and emergency management applications.
The goal is to fly drones safely and in controlled airspace.
"It has been absolutely amazing," said Carter, precision agriculture technology educator for Purdue Extension. "After the training was completed, the operators gained hands-on experience with this equipment. This makes their work safer and more efficient.
Carter said his office had trained 13 state police officers, seven municipal police officers, eight county officers, half a dozen firefighters and five people responsible for county emergency management. "This type of technology is an absolute game changer," Carter said. "We can take a 10-minute flight to the scene of an accident and have enough information to make an accurate police report and provide information for insurance purposes or to the county prosecutor, if any. need."
Ultimately, program leaders hope to expand training statewide to train as many officers as possible.
Delaware County Emergency Management / Homeland Security received grants that supported the purchase of two drones, allowing the team to assess and assess hazards while keeping humans out of dangerous situations. Thanks to the funding, there are still two drones and two pilots available for 24/7 emergency service. The funding also provided support materials such as a hard case, spare parts, spare batteries and an iPad for mapping and zoning software.
Drones are often deployed to locate missing persons, assist in the search for fleeing fugitives, document accident and crime scenes, assist SWAT and criminal surveillance, and investigate homes too dangerous for humans to use. penetrate. The new drones feature forward-facing infrared cameras and detect heat signatures of people who otherwise might not be seen at night or in a wooded area, for example. Another use is to send a drone over a hazardous materials incident to get a better idea of ​​the danger without having to send personnel to a potentially hazardous area.
"We have a growing demand for licensed drone pilots and the drones themselves," Johnson explained. "We use them in a variety of ways, but they have become essential in documenting an accident scene. In the past, the police would set benchmarks and begin the tedious task of reconstructing what had happened. A drone allows us to capture images that can be pieced together into a large mosaic and do the same. It is the difference between a closed road three or four hours and only one hour.
About the Ball Brothers Foundation
The Ball Brothers Foundation is one of the oldest and largest family foundations in the state. Each year, the foundation provides approximately $ 8 million in grants to support arts and culture, education, the environment, health, social services and public affairs. The Muncie-based private foundation prioritizes projects and programs that improve the quality of life in the city, county and state where the foundation originates.